"Mom, that hat over there is running by itself!" howls my son as he attempts to pull me away from the sweet stand where my girls are coveting everything in sight. But I can't move because this is the Medina. It is our first trip to Morocco and it feels as though there are more people than I saw on the streets of Rome during the millennium! With my trio donning safety tags given to us at the hotel, I am feeling uneasy about anything less than a centimeter between us. When we finally peel the girls away from the sweets, I spot an owl straight out of the Exorcist, spinning its head in an effort to keep up with the renegade hat propelled by a clandestine rodent. Yep, we have definitely arrived in Morocco and this is day two!
With a guide next to her, our youngest takes to the city exuding the type of confidence that only comes with knowledge or a sense of peace with your surroundings. And if you are thinking that she is far too young to have either, I would agree with you except for that old adage about a picture saying a thousand words.
We are led through a maze of tiny adobe-hued streets, where my husband and I quickly determine that while a guide is a must for first-time visitors and families traveling with young children, they often lead you straight to the merchants with which they do business dissuading you from venturing into areas you may have otherwise explored. Note to self: Next time we brave the souks in the hands of our younger guide.
Words are inadequate to describe how quickly one becomes entranced by the Medina. The energy, rich colors, aroma, and overwhelming amount of fabrics, rugs, scarves and lanterns have the power to transfix as they collectively become the very soul of the old city. It is one of those discoveries our family has never taken for granted, a wondrous gift we can unlock, as I do now, whenever we wish to be reminded of how heightened our senses can become.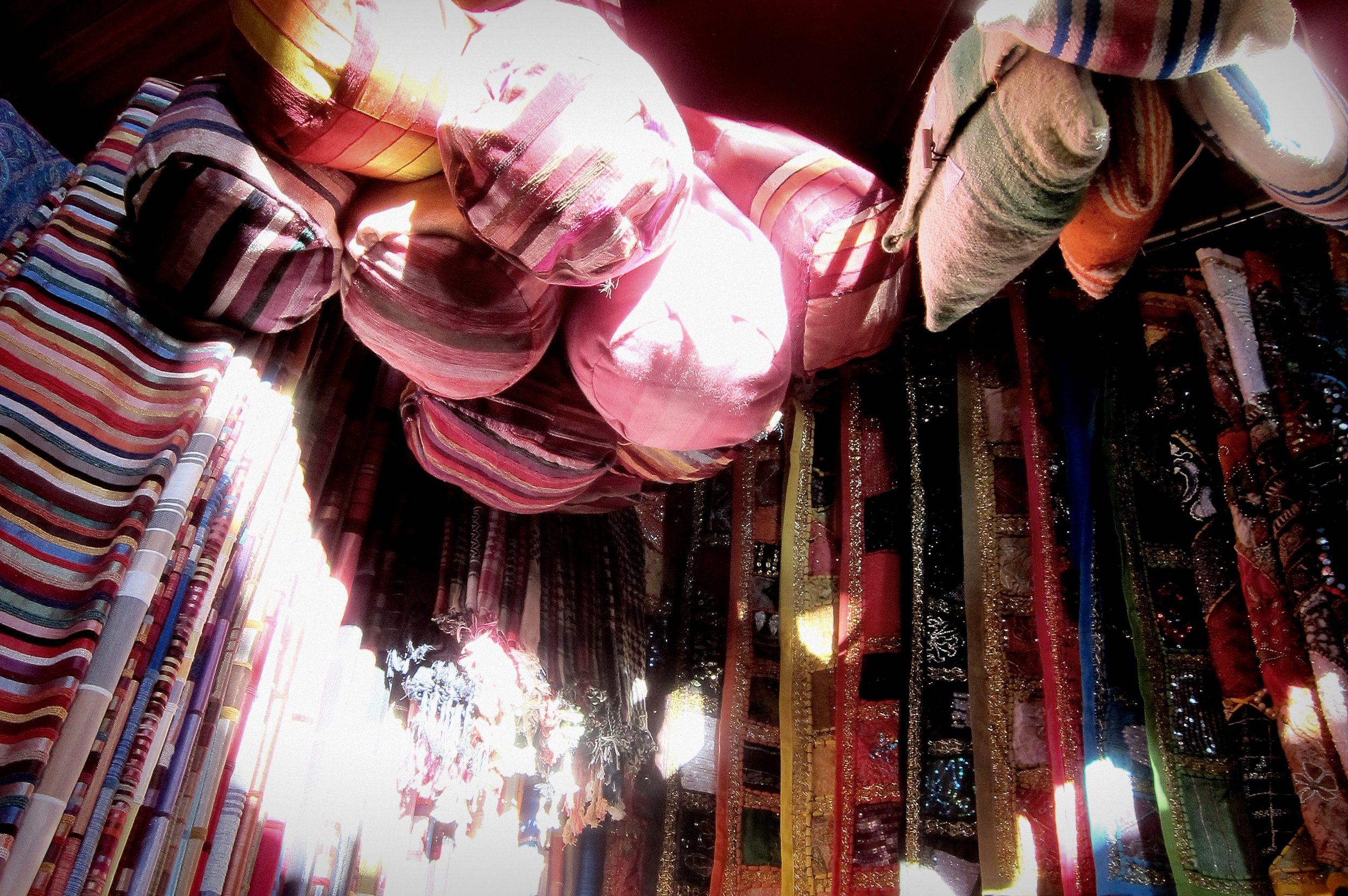 We stop at an enchanting restaurant where yards of striped fabric adorn every inch of the walls and ceiling. I am amazed at how well the daring juxtaposition of prints and colors works in this part of the world. The Medina is a feast for the senses: culinary creations infused with dates, prunes, figs, and spices like cumin, saffron, cinnamon, and ginger delight the palate. Our senses are further heightened by the adhan, or call to prayer, the most spellbinding sound I have ever heard, one I grew to anticipate during the length of our magnificent stay.
Take a camel ride through the desert, a hair-raising trek through the Atlas mountains and learn why we are Happy to Be Alive in Part III of the trilogy.