Chances are that if you don't live in California, what first springs to mind are sandy beaches, Hollywood, Silicon Valley and the Golden Gate Bridge. But farmland?
Absolutely!
Meet Marfarm, a chic new bed and breakfast located midway between Los Angeles and San Francisco in the heart of Edna Valley's wine country. The converted barn, which is attached to a working horse stable for a true farm stay experience, is set upon sixty luscious acres with a 360 degree view of rolling hills, each acre meticulously cultivated.
We met the proprietors, Jill and Hamish Marshall, several years ago at a dinner party and became fast friends. Our better halves exchanged stories of life abroad while Jill and I bonded over our joie de vivre and love of design, in particular the use of juxtaposed textures, colors and design elements. In fact, it was Jill who inspired me to launch Designs by Alina back in 2014.
Hamish's "no worries mate" attitude coupled with Jill's warmth, wit, and exceptional eye for design, make them the perfect gatekeepers of this secluded oasis. And while Edna Valley may not sound like the place a gifted designer and Aussie adventurer would call home, a simple glance at the haven they have created makes it clear that this is exactly where they need to be.
"Hamish was based here for development back in 1995," explains Jill. "When I graduated from design school with a jewelry degree, I was persuaded to fall in love with him by my mother. I finally conceded and we've been very happily married in Edna Valley for 22 years." The Marshall world has grown since then with two daughters, four dogs, a cat, a cow, a pig, sixteen horses, twenty-two chickens, a donkey, a new B&B and llamas on the way.
In deference to its roots, the barn interiors are accented in green to complement the original 1930's dairy floor. Every detail from the Spanish chandelier pendant fabricated with recycled soda bottles and grasses, to the linen bedding, rugged Argentinian throws, and Moroccan tiles hinting at old Americana quilts, attest to Jill's unrelenting attention to detail and superb design aesthetic.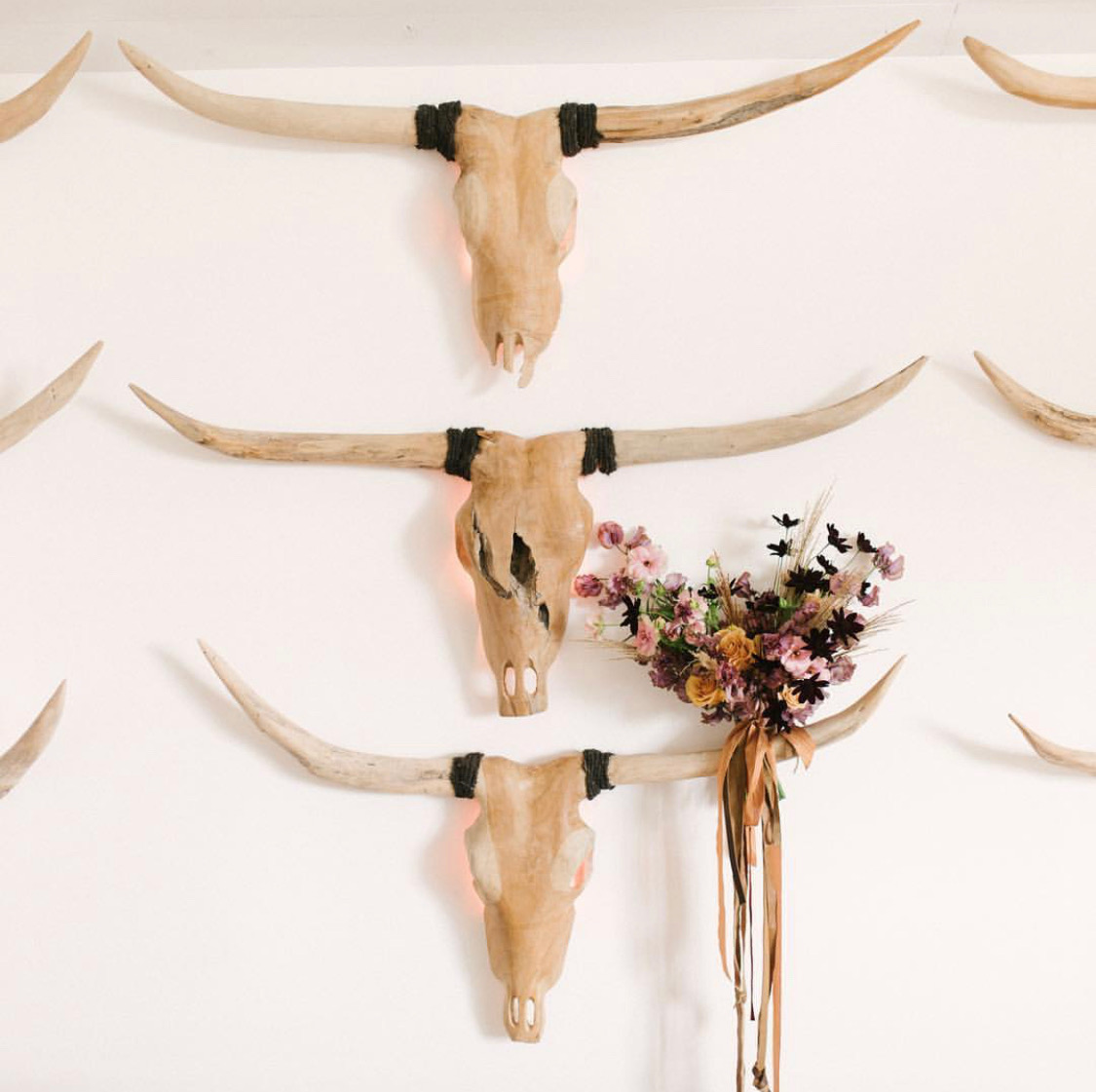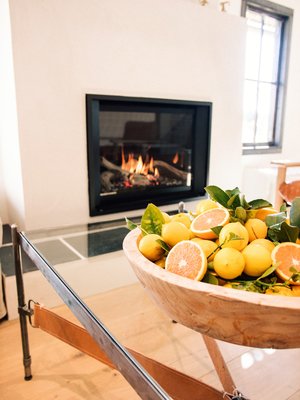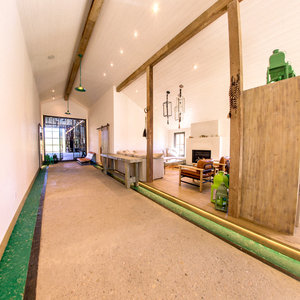 While beauty and originality abound at every turn, the 9 hand carved wood horned bull heads are a sight to behold. Imported from Bali, these fascinating sculptures can be showcased with 1200 possible light scenarios, though the Marshalls have opted to greet their guests with warm shades of green and sunset rose.
Marfarm's refined rustic-meets-modern design, perfectly suitable for a wedding or weekend getaway, is an ongoing labor of love. A designer after my own heart, Jill espouses the idea that subtle details speak volumes: "Just being there, placing flowers, cutting fresh fruits, setting the dimmers just right, lighting French candles, making the bar look perfect with wines and fur beer cozies is like playing house, and all those little details offer our guests a visual explosion."
So next time you wish to discover a place less traveled and simply divine, look no further than Marfarm in San Luis Obispo, where beauty, serenity and joy await. www.marfarm.com
Photos credits: Marfarm and Alina de Albergaria