To many she is the lady behind Cafe/Bakery Our Daily Bread, the largest local bread supplier in Santa Barbara, which also offers arguably the best latte in town. I met Laurie at the original downtown location on my way to the Farmer's Market when our now-teenage twins were merely a year old. Weekly jaunts to her bakery very quickly became routine and our children savored every minute of those visits (in both the figurative and literal sense.)
Laurie is a kind, witty, generous, straight shooter, whose ample heart has more than enough space for her many friends, acquaintances, and strangers like Jay, the homeless man she often greeted outside her shop with a muffin and coffee on Saturday mornings. Her notable penchant for children has made our trio fortuitous recipients of much affection...and exquisite birthday cakes.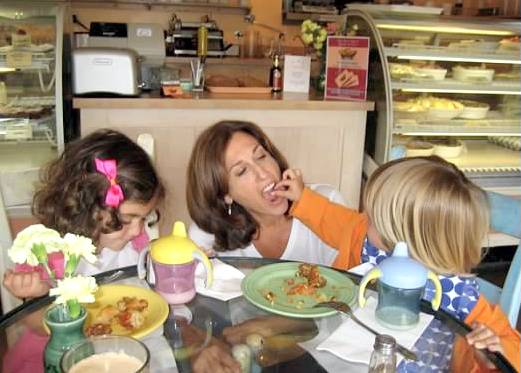 Aching to slow down, Laurie sold her landmark bakery following over three decades of dedicated service. Fortunately for us she has repackaged her talents into Cook and Bake With Laurie, a new enterprise consisting of private or group classes in her home or in those of her clientele.
What a joy it is to support this local, woman-owned business!
Yesterday, Tessalina and I invited Laurie over for a lesson in which we learned how to make the very same marzipan cake we enjoyed for years at her bakery. She brought everything, from the flour and almonds to the vintage Cuisinart she has had since the seventies when the food processor first appeared on the market. And in case you are wondering, we made the marzipan itself from scratch. Somehow with her it all seemed very easy, and suffice it to say that our whole family enjoyed a little slice of baked heaven.
Tessalina is now thinking that with a few more classes under her belt, she might be able to tackle the beautiful marzipan princess cake Laurie made when her brother and sister turned three. Better yet, she says: "I'll bake it with my friends at my next birthday party!"
Book a lesson or two...your friends and palate will thank you later!